Vancouver Mysteries Games
Last updated on
Tuesday, February 6th, 2018
Program Description
In a Vancouver Mysteries game your students are the heroes of their own outdoor adventure — they'll sharpen their deductive reasoning skills while they complete a series of challenges and collect clues to solve a mystery on the streets of downtown Vancouver.
Students are divided into teams of up to 5 players competing for first place in an Amazing Race style game. Points are earned by answering each challenge correctly, completing the game within a time limit, and by being one of the first teams back.
Game kits include a map, game book, worksheet, and any tools required to solve the mystery (examples: magnifying glass, measuring tape). Players use the map to navigate the streets of downtown Vancouver, cracking codes and solving puzzles along the way. Landmarks, sculptures, parks, and historic sites all play their part as the story unfolds.
Games are facilitated by Vancouver Mysteries' Game Operators who arrive in character as detectives or secret agents to introduce the game and send the teams out on their adventure. At the end of the game, Game Operators meet the teams to calculate their scores and award team certificates.
Choose from any of our three games: Gastown murder mystery Crime in Downtown, downtown spy game Secret Mission and superhero adventure Heroes and Villains.
Need some lesson plan ideas? Check out our Field Trips page to download free lesson plans, access Kahoots! games, and pick our brains for more field trip ideas.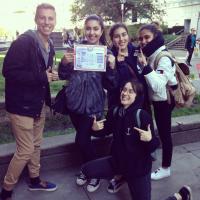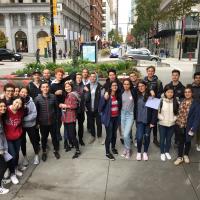 Big Ideas
Finding a balance between work and personal life is essential to good physical and mental health.
Learning how to learn prepares us to be lifelong learners who can adapt to changing career opportunities.
Identity is explored, expressed, and impacted through arts experiences.
The arts provide opportunities to gain insight into the perspectives and experiences of people from a variety of times, places, and cultures.
Language and story can be a source of creativity and joy.
People understand text differently depending on their worldviews and perspectives.
Questioning what we hear, read, and view contributes to our ability to be educated and engaged citizens.
Healthy choices influence our physical, emotional, and mental well-being.
Collective identity is constructed and can change over time.
The physical environment influences the nature of political, social, and economic change.
Additional Notes
One game can host up to 40 players. We run multiple games silmultanousely as a Mega Mystery for groups with 41-120 students  Groups of more than 40 students who wish to play the same game may do so as multiple bookings half an hour or more apart on the same day. Please consult our Experience Manager for more details.
Please allow for 2 to 2.5 hours game time (depending on group size) when planning the rest of your day.
Games start and end near the corner of West Hastings and Hornby Streets, less than a 5 minute walk from Waterfront Skytrain Station.