Agroecosystems
Last updated on
Monday, February 3rd, 2020
Program Description
Is the farm an ecosystem? We will look at the attributes of an ecosystem, and search for evidence of those on our farm. This can a good introduction to ecosystems, or a chance to apply prior ecosystem knowledge.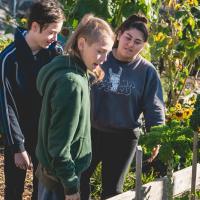 Big Ideas
Cells are derived from cells.
Additional Notes
Situated at Vancouver Technical and David Thompson secondary schools, our schoolyard farms are a short walk from many elementary schools and community centers.  All field trips are 2 hours long and include a farm work experience, as well as a tasting of salad or other farm foods.
Learn more and book your trip at freshroots.ca/education/field-trips/.