Arctic Biodiversity
Last updated on
Tuesday, September 25th, 2018
Program Description
Students explore our underwater arctic gallery in small groups with our staff. They handle many animal artifacts and observe live animals to learn about the diversity of arctic life, how humans and other arctic species are connected, and the effects of climate change in the north.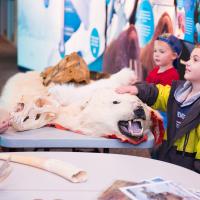 Big Ideas
The motions of Earth and the moon cause observable patterns that affect living and non-living systems.
Multicellular organisms have organ systems that enable them to survive and interact within their environment.
Multicellular organisms rely on internal systems to survive, reproduce, and interact with their environment.
Earth and its climate have changed over geological time.