Cedar Connections
Last updated on
Thursday, August 9th, 2018
Program Description
Created with intermediate learners in mind, Cedar Connections seeks to challenge students to engage in deeper and higher level conversations around Indigenous peoples struggles, politics, and arts of the Northwest Coast.  Centred in fostering an undertanding of the interconnectedness of land, sea, art, and peple, this program is a mixture of guided tour and faciltated discussion with an art based reflection activity at the end. An example of topics that may be discussed in this program are:
art and reconciliation 
tattooing, body adornment, and cultural appropriation 
economic expansion, environmental impact, and art 
art, land, and belonging
The content of the program will change according to our current exhibit, but will always have a foundation in exploring the works of Bill Reid. 
Our current exhibit is Body Language: Reawaking Cultural Tattooing of the Northwest, an exhibit that explores traditional methods and styles of body adornment along the Northwest Coast. The main themes of identity, community, and belonging are a foundation for this years programming.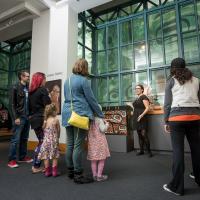 Big Ideas
Contacts and conflicts between peoples stimulated significant cultural, social, political change.
Exploration, expansion, and colonization had varying consequences for different groups.
Human and environmental factors shape changes in population and living standards.