Cedar Roots
Last updated on
Thursday, August 9th, 2018
Program Description
Middle years learners will be challenged to delve deeper into understanding the interconnectedness of land, art, sea, and people of the Northwest Coast. This program will bring students on an engaging tour of the gallery with facilitated discussions to guide them in a deeper understandings of the art in the gallery.  Each program will feature group and individual activities to keep students moving.
The content of the program will change according to our current exhibit, but will always have a foundation in exploring the works of Bill Reid. 
Our current exhibit is Body Language: Reawaking Cultural Tattooing of the Northwest, an exhibit that explores traditional methods and styles of body adornment along the Northwest Coast. The main themes of identity, community, and belonging are a foundation for this years programming.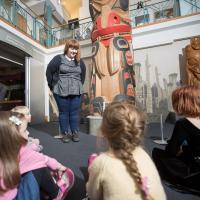 Big Ideas
Engaging in the arts develops people's ability to understand and express complex ideas.
Experiencing art challenges our point of view and expands our understanding of others.
Through art making, one's sense of identity and community continually evolves.
Artists often challenge the status quo and open us to new perspectives and experiences.
Creative growth requires patience, readiness to take risks, and willingness to try new approaches.
Individual and collective expression can be achieved through the arts.
Creative arts experiences can build community and nurture relationships with others.
Identity is explored, expressed, and impacted through arts experiences.
The arts provide opportunities to gain insight into the perspectives and experiences of people from a variety of times, places, and cultures.
Economic specialization and trade networks can lead to conflict and cooperation between societies.
Increasingly complex societies required new systems of laws and government.
Religious and cultural practices that emerged during this period have endured and continue to influence people.
Changing ideas about the world created tension between people wanting to adopt new ideas and those wanting to preserve established traditions.
Contacts and conflicts between peoples stimulated significant cultural, social, political change.
Exploration, expansion, and colonization had varying consequences for different groups.
Human and environmental factors shape changes in population and living standards.
Collective identity is constructed and can change over time.
Disparities in power alter the balance of relationships between individuals and between societies.
Emerging ideas and ideologies profoundly influence societies and events.
The physical environment influences the nature of political, social, and economic change.