Cheakamus Centre - Educator Workshops
Last updated on
Thursday, July 4th, 2019
Program Description
Gain experience through meaningful and hands-on learning!
Located in the heart of Skwxwú7mesh (Squamish) Nation, Cheakamus Centre provides outstanding full or half-day educator workshops focusing on indigenous and environmental learning. These experiential workshops are designed for a wide range of groups including K-12 teachers and administrators, outdoor centre program leaders, post-secondary program groups, and other adult educators interested in broadening their understanding of indigenous and place-based learning.
Learn more: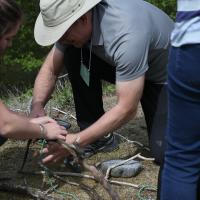 Big Ideas
Exploration, expansion, and colonization had varying consequences for different groups.
Human and environmental factors shape changes in population and living standards.
Additional Notes
Learn more about our various Educator Workshop offerings: