The Ethics of Chivalry and Swordplay
Last updated on
Wednesday, November 7th, 2018
Program Description
In our changing world, teaching ethics has become increasing important in creating responsible global citizens. The new curriculum asks students to make ethical judgements about the past and evaluate the limitations of drawing direct lessons from history.  One approach is to directly compare modern codes of ethics with historical codes from period sources. Studying prescribed codes of ethics from medieval chivalric manuscripts, such as the Book of Chivalry by Geffroi de Charny, and The Flower of Battle by Fiore dei Liberi, helps students examine their own codes of ethics and understand the pitfalls of dubious translations. But chivalry is essentially the ethics of swordfighting, and the best way to learn this is by swinging a sword. This exciting workshop combines hands on swordplay experience for kinesthetic learners with interpretation of historical manuscripts to reach multiple intelligences.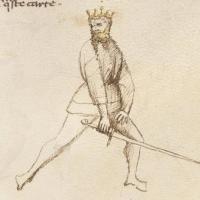 Big Ideas
Changing ideas about the world created tension between people wanting to adopt new ideas and those wanting to preserve established traditions.
Human and environmental factors shape changes in population and living standards.
Additional Notes
Minimum length of 2 hours.  This field trip can be customised to be longer if you desire. Contact us for details and options to customise your experience.