Floating Classroom
Last updated on
Wednesday, August 7th, 2019
Program Description
Come experience "The Floating Classroom" aboard a Voyageur Canoe! The Voyageur Canoe is the ideal vessel to build teamwork and leadership skills in a real situation! The historic Voyageur Canoe is a great tool to gain insight into British Columbia's rich fur trading history and experience our province's dynamic natural environment. Come Canoeing on our amazing waterways to see first had the Biological and Ecological diversity BC has to offer.
Ridge Wilderness offers educational half-day, full-day and overnight canoe trips to school groups. A variety of prescribed learning outcomes can be included upon request. A variety of locations available in the Lower Mainland!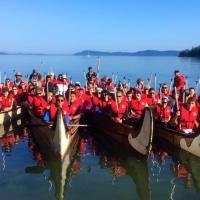 Big Ideas
Adopting healthy personal practices and safety strategies protects ourselves and others.
Movement skills and strategies help us learn how to participate in different types of physical activity.
Knowing what we enjoy doing and knowing about our opportunities to participate in those activities helps us develop an active lifestyle.
Personal choices and social and environmental factors influence our health and well-being.
Developing healthy relationships helps us feel connected, supported, and valued.
Understanding ourselves and the various aspects of health helps us develop a balanced lifestyle.
Physical literacy and fitness contribute to our success in and enjoyment of physical activity.
Learning about similarities and differences in individuals and groups influences community health.
Healthy choices influence our physical, emotional, and mental well-being.
Lifelong participation in physical activity has many benefits and is an essential part of a healthy lifestyle.
Additional Notes
Minimum 15 students per group, but we are able to accommodate large groups or varied sizes! Email us to inquire for more information.