Fraser Trade Brigade
Last updated on
Friday, August 14th, 2020
Experience type:
In-Person
Program Description
(Grades 4-7) Students discover the importance of trade and economics in their own lives. Through games and activities, students learn about trade on the Fraser River, global trade, and supply and demand.
Key Messages:
We are all connected to the Fraser River through our lifestyles (Recreation, culture, economic, environmental)
The Fraser River connects the Canadian economy to the rest of the world, which allows us to have the items we want that do not come from Canada.
The Fraser River is a gateway from BC to the world, to transport natural resources that support the Canadian economy.
This program is divided into:
Introduction: Outdoor Introduction to the Fraser and PowerPoint Presentation (20 minutes)
Stations (20-minute stations)

Peer Market (Supply and Demand modelling game)
Transportation Detective (Shipping method problem solving math activity)
Global Trade Game (Resource trading card game)

Conclusion (10 minutes)
For more information, visit our website or email us. 
*In the 2020-2021 school year, this program may be available for in-class outreach, with an educator and all the materials coming to your school in-person. To provide us with more information on what you would like from in-class outreach, fill in our survey.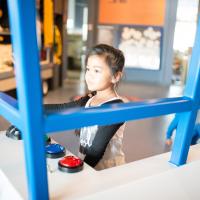 Big Ideas
Public identity is influenced by personal choices and decisions.
Leadership represents good planning, goal-setting, and collaboration.
Practising respectful, ethical, inclusive behaviour prepares us for the expectations of the workplace.
Safe environments depend on everyone following safety rules.
Leadership represents good planning, goal-setting, and collaboration.
Skills are developed through practice, effort, and action.
The choice of technology and tools depends on the task.
Design can be responsive to identified needs.
Data from circle graphs can be used to illustrate proportion and to compare and interpret.
Linear relations can be represented in many connected ways to identify regularities and make generalizations.
COVID Precautions
With the continued safety and well-being of our visitors, staff and volunteers the highest priority, we have developed a safety plan in accordance with WorkSafeBC guidelines. Our COVID-19 safety guide can be found on our website: https://fraserriverdiscovery.org/wp-content/uploads/2020/06/WORKSAFE-BC-FRDC-COVID-19-SAFETY-PLAN-Final.pdf If you have any concerns about visiting the center that are not addressed in the safety plan, please email or call us and we can work together to make sure that your visit is a safe one.
Additional Notes
This program includes a 10 minute outdoor segment.