Kilby Historic Site Heritage Tour - All Ages
Last updated on
Thursday, February 6th, 2020
Program Description
Welcome teachers and students! The Kilby Historic Site provides an enjoyable learning experience in an interactive, authentic historic setting–depicting pioneer life in rural British Columbia. Our living history program actively enables student learning with actual artifacts and costumed role players such as a shopkeeper, pioneer wife or farmhand that would have lived in the 1920s, in rural British Columbia. All education programs complement current school curriculum and augment resources used by secondary school classes.
Teachers' Packages consisting of detailed site information, guidelines and directions are available to teachers prior to your visit for in class lesson and travel preparation assistance.
In this program, your class will be divided into two groups. One group is guided by a costumed storekeeper through the General Store Museum, learning about rural country life during the 1920s. The other group explores the farmyard, with help from the farmhand and encouragement from our friendly farm animals.
We require a minimum of 20 students for all school programs and additional experiences listed below. 
Optional Experiences:
Ice Cream Making $4/person
Students have a first-hand experience at making ice cream the old-fashioned way! This fun and interactive demonstration allows students to learn by instruction and participation. The reward for their hard work is a sample of the real ice cream they themselves have made.
(Approx. 30 minutes) Minimum$60
Cider Pressing $4/person
Students see how apples turn into juice on our 100–year old cider press. They can try their hand at pressing the apples and listen to the stories shared as the old cider press is used once again!
(Approx. 30 minutes) Minimum $60
Strolling Through Time $4/person
In this walking tour, students learn about Harrison Mills and the surrounding area's unique culture. The students will be introduced to our region's geography and industry. Archival photographs will reveal the need for the extensive dyking system in place today.
(Approx. 30 minutes) Minimum $60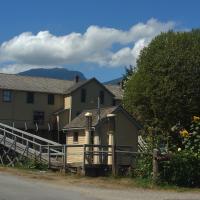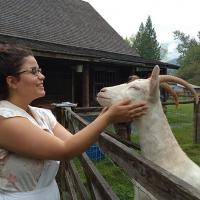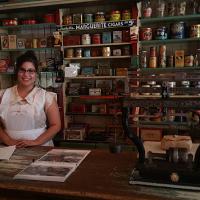 Big Ideas
British Columbia followed a unique path in becoming a part of Canada.
Demographic changes in North America created shifts in economic and political power.
Interactions between First Peoples and Europeans lead to conflict and cooperation, which continues to shape Canada's identity.
The pursuit of valuable natural resources has played a key role in changing the land, people, and communities of Canada.
Canada's policies and treatment of minority peoples have negative and positive legacies.
Canadian institutions and government reflect the challenge of our regional diversity.
Immigration and multiculturalism continue to shape Canadian society and identity.
Natural resources continue to shape the economy and identity of different regions of Canada.
Media sources can both positively and negatively affect our understanding of important events and issues.
Systems of government vary in their respect for human rights and freedoms.
Economic specialization and trade networks can lead to conflict and cooperation between societies.
Geographic conditions shaped the emergence of civilizations.
Increasingly complex societies required new systems of laws and government.
Religious and cultural practices that emerged during this period have endured and continue to influence people.
Changing ideas about the world created tension between people wanting to adopt new ideas and those wanting to preserve established traditions.
Contacts and conflicts between peoples stimulated significant cultural, social, political change.
Exploration, expansion, and colonization had varying consequences for different groups.
Human and environmental factors shape changes in population and living standards.
Collective identity is constructed and can change over time.
Disparities in power alter the balance of relationships between individuals and between societies.
Emerging ideas and ideologies profoundly influence societies and events.
The physical environment influences the nature of political, social, and economic change.
Additional Notes
There is a minimum of 20 students with no maximum
The program is 90 minutes, but most schools stay half a day. We have a lovely covered picnic table area, Orchard playground and farm. The facility is completely fenced in for security. We also have a cafe, gift shop and Kilby Park is within walking distance with sandy beach on the Harrison River.