Les machines en action en ligne en français (4-6 année)
Last updated on
Friday, May 21st, 2021
Experience type:
Virtual Field Trip
Program Description
Thème :
Les simples machines composent les machines complexes
Les machines complexes travaillent ensemble pour créer un produit  
Personnes et machines ont tous un rôle à jouer
Description : Cet atelier en ligne de 60 minutes est une présentation interactive sur les machines complexes et une chaîne de montage (la chaîne de mise en conserve) dirigée par le staff du Gulf of Georgia Cannery site historique et national. Les élèves joueront le rôle de «détectives» et exploreront trois machines complexes clés sur la chaine de mise en conserve. Le personnel posera des questions et donnera aux étudiants la possibilité de voter pour répondre, et des indices pour aider à remplir leur feuille de travail.
Cette unité inclut:                                                                                         
Une unité entièrement créée avec des Pré et Post activités, un workshop et un kit à utiliser dans la classe.
Connection avec les Sciences Sociales
Un workshop en ligne d'une heure avec un interprète
De multitudes d'activités
Des photos et vidéos historiques
Un quiz kahoot
Deux chasses au trésor
Un mot mêlé
Bonus: Un kit physique peut être emprunté pour une semaine sans frais supplémentaires. Il inclut des répliques en bois de machines simples. Le kit doit être récupéré au lieu historique national Gulf of Georgia Cannery à Steveston. Des instructions seront incluses pour aider les élèves à approfondir leurs connaissances sur la façon dont les machines fonctionnent.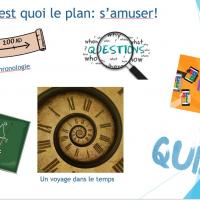 Big Ideas
Machines are devices that transfer force and energy.