Live stream in-gallery tour
Last updated on
Friday, October 1st, 2021
Experience type:
Virtual Field Trip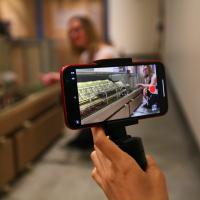 Big Ideas
Canada is made up of many diverse regions and communities.
Indigenous knowledge is passed down through oral history, traditions, and collective memory.
Indigenous societies throughout the world value the well-being of the self, the land, spirits, and ancestors.
Learning about indigenous peoples nurtures multicultural awareness and respect for diversity.
British Columbia followed a unique path in becoming a part of Canada.
The pursuit of valuable natural resources has played a key role in changing the land, people, and communities of Canada.
Canada's policies and treatment of minority peoples have negative and positive legacies.
Immigration and multiculturalism continue to shape Canadian society and identity.
Changing ideas about the world created tension between people wanting to adopt new ideas and those wanting to preserve established traditions.
Exploration, expansion, and colonization had varying consequences for different groups.
Disparities in power alter the balance of relationships between individuals and between societies.
Emerging ideas and ideologies profoundly influence societies and events.
The physical environment influences the nature of political, social, and economic change.