Lochiel Schoolhouse Experience
Last updated on
Tuesday, July 31st, 2018
Program Description
The costumed interpreter takes the students back in time to become the class of 1924. Students have the opportunity to participate in this school by taking on the roles and responsibilities of pioneer students. Obedience, good manners and hard work are insisted upon - but students have a good time despite the high standards!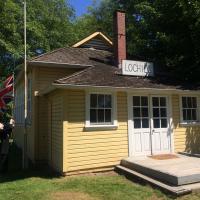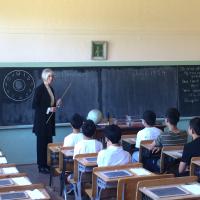 Big Ideas
Creative experiences involve an interplay between exploration, inquiry, and purposeful choice.
Creative expression is a means to explore and share one's identity within a community.
Engaging in creative expression and experiences expands people's sense of identity and belonging.
People from diverse cultures and societies share some common experiences and aspects of life.
Additional Notes
Presented at Lochiel School. 10:30 am - 12:00, 12:30 - 2:00 pm. Learning Outcomes: distinguish students' roles, rights and responsibilities within the classroom and how their actions can affect the wellbeing of the school and community; identify changes in the school and community over time; demonstrate co-operative effort to develop dramatic work. Lochiel School is located in Campbell Valley Park south Langley.