Lock, Stock & Cracker Barrel
Last updated on
Thursday, February 6th, 2020
Program Description
Welcome teachers and students! The Kilby Historic Site provides an enjoyable learning experience in an interactive, authentic historic setting–depicting pioneer life in rural British Columbia. Our living history program actively enables student learning with actual artifacts and costumed role players such as a shopkeeper, pioneer wife or farmhand that would have lived in the 1920s, in rural British Columbia. All education programs complement current school curriculum and augment resources used by secondary school classes.
Teachers' Packages consisting of detailed site information, guidelines and directions are available to teachers prior to your visit for in class lesson and travel preparation assistance.
We require a minimum of 20 students for all school programs and additional experiences listed below.
Our friendly, costumed interpreters will lead a fun and highly interactive program that explores the operation of a 1920s general store and farm in a rural Canadian community. This three-stationed program begins with the unique experience of shopping in the 1920s in our General Store Museum. The farmhand then guides the students around our living history farm, where they learn about rural farm life during BC's early years. Finally, students are encouraged to use their imagination as they explore the Jr. Merchants Playroom.
Optional Experiences:
Ice Cream Making $4/person
Students have a first-hand experience at making ice cream the old-fashioned way! This fun and interactive demonstration allows students to learn by instruction and participation. The reward for their hard work is a sample of the real ice cream they themselves have made.
(Approx. 30 minutes) Minimum$60
Cider Pressing $4/person
Students see how apples turn into juice on our 100–year old cider press. They can try their hand at pressing the apples and listen to the stories shared as the old cider press is used once again!
(Approx. 30 minutes) Minimum $60
Strolling Through Time $4/person
In this walking tour, students learn about Harrison Mills and the surrounding area's unique culture. The students will be introduced to our region's geography and industry. Archival photographs will reveal the need for the extensive dyking system in place today.
(Approx. 30 minutes) Minimum $60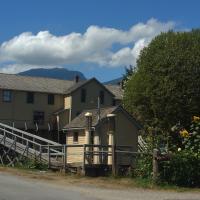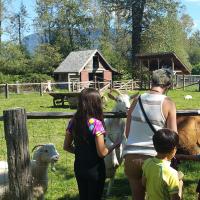 Big Ideas
Our communities are diverse and made of individuals who have a lot in common.
Rights, roles, and responsibilities shape our identity and help us build healthy relationships with others.
Stories and traditions about ourselves and our families reflect who we are and where we are from.
Healthy communities recognize and respect the diversity of individuals and care for the local environment.
Our rights, roles, and responsibilities are important for building strong communities.
We shape the local environment, and the local environment shapes who we are and how we live.
Canada is made up of many diverse regions and communities.
Individuals have rights and responsibilities as global citizens.
Local actions have global consequences, and global actions have local consequences.
Indigenous knowledge is passed down through oral history, traditions, and collective memory.
Indigenous societies throughout the world value the well-being of the self, the land, spirits, and ancestors.
Learning about indigenous peoples nurtures multicultural awareness and respect for diversity.
People from diverse cultures and societies share some common experiences and aspects of life.
British Columbia followed a unique path in becoming a part of Canada.
Interactions between First Peoples and Europeans lead to conflict and cooperation, which continues to shape Canada's identity.
The pursuit of valuable natural resources has played a key role in changing the land, people, and communities of Canada.
Additional Notes
There is a minimum of 20 students with no maximum
The program is 90 minutes, but most schools stay half a day. 
Site facilities include picnic tables on the grounds which are great for having your own brown bag lunch. The museum is within walking distance of Kilby Park on Harrison Bay. Some school groups choose this area to have lunch, or enjoy a walk on the beach. A third option is to have lunch indoors, in the Orientation Barn, should you experience inclement weather during your visit. The Harrison River Restaurant can always provide hotdogs, popcorn, fresh sandwiches, muffins, soft drinks and assorted juices.
We look forward to booking your class tour!