Marine Debris Sorting
Last updated on
Monday, September 11th, 2017
Program Description
Field trips are being organized again for this year's 14-day Upcycle Challenge event which is taking place from October 7th to the 20th.
The Upcycle Challenge is an annual event which allows people of all ages to come to our facility and learn about the effects of plastic pollution first hand by helping us sort selected marine debris materials.  This unique opportunity teaches about the effects of resource consumption, ocean conservation, the implications of plastic pollution and sustainable technologies.  In 2015, we were able to purchase a small scale plastic to fuel machine that is able to convert plastic pollution back into a light crude on-site.  This offers individuals an incredible opportunity to learn about revolutionary sustainable technologies for waste management but also gets everyone creatively thinking about solutions to our waste management systems.  Ultimately, the goal is to foster an environment which begins to transforms people's understanding around what they consider waste into materials that are treated as a resource.
Last year we collaborated with BC Field Trips and hosted alternative education for over 230 youth!
This year we accpeted more then 500 cubic yards of marine debris from the coastlines of British Columbia, working with hundreds of volunteers, indsutries, businesses, government, artists, students and concerned citizens.
We hope to see you this year!!  These activities are ideal for Grade 4 and older.  In order to attend you must call or email our general contact as soon as possible as space is much more limited this year.
What to bring:
- Sunhat
- Work gloves
- Snacks and Lunch
- Waterbottle
- Any music you would like to listen to (Must be family appropriate)
Hours of Operation are subject to change.
***Please continually refer to this schedule for updates***
October 7: 10am-5pm: Plastic sorting instructions and opening words from 10am-11am
October 8: 10am- 5pm
October 9: 10am- 5pm
October 11: 10am- 5pm
October 14: 10am- 5pm
October 15: 10am- 5pm
October 16: 10am- 5pm
October 18: 10am- 5pm
October 20: 10am- 5pm
***More dates and times to come 
LOCATION: 8601 Main Street, Vancouver, BC 
PARKING: There is available free parking on the side of the road in front of the warehouse space.
FOOD: To be clear- there is no available kitchen this year on site. Please bring your lunch and snacks for the day.
FIRST AID: There will be first aid provided on site
CURRENT END OF LIFE SOLUTIONS::
- Foam and Hard Plastic Buoys: Route Blue, Vernon BC
- Buoys: Harbour Chandler, Nanaimo, BC
- Plastic PET Waterbottles: Lush Cosmetics
- Hard mixed plastics: Lush Cosmetics 
- Polystyrene (White Foam): Foam Only
- Tires: Action Tire
- Research continuation for Hard Mixed Platics: Resynergi Inc Plastic to fuel conversion
- Eurathyne Foam: Poly Research Institute
BACKGROUND
Over the spring and summer of 2017 marine debris and driftage items were recovered from the remote wilderness of Vancouver Island, the Gulf Islands and residing waterways. During this time hundreds of volunteers and sponsors contributed to large scale cleanup operations to remove marine debris and drfitage along the West and East coasts of Vancouver Island. Loads of debris have been transported to our new debris in-take centre located in South Vancouver. To date we have had over 8 B-Trains of material enter our grounds and have been sorting debris throughout the summer. We are estimating that by the end of the collection season we will have collected over 500 supersacks (1 cubic yard each) of materials with additional loose itmes which consist of tires, barels, pallets, hundreds of buoys, over 150 cubic yards of mixed foam, and unidentified objects. 
It is estimated that about 1/3 of the material collected from the West coast of Vancouver Island is from the devastating tragedy of the 2011 Tōhoku earthquake and tsunami. This earthquake was registered at a magnitude of 9.0 (Mw) and reported 15,894 deaths. It is with care and respect that we help to recollect this drfitage and return some of these items back to the Japanese people. We thank the Japanese people for their previous financial gift which allowed this work to gain great momentum in British Columbia over the previous years.
It has been our upmost priority to arrange after life solutions for this debris to the best of our ability. 
*** We will again have our demonstration plastic to fuel machine running as an example of sustainable end of life solutions to a lot of this plastic debris.*** Come watch bottle caps turn back into a light crude oil***
The generous financial gift given by the Japanese Ministry of Environment and the BC Ministry of Environment helped launch this project in 2016.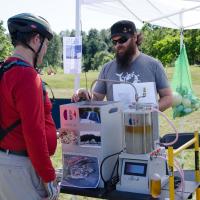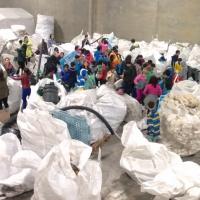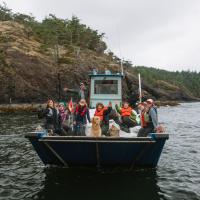 Big Ideas
Exploring our strengths and abilities can help us identify our goals.
Family and community relationships can be a source of support and guidance when solving problems and making decisions.
Good learning and work habits contribute to short- and long-term personal and career success.
Leadership requires listening to and respecting the ideas of others.
Public identity is influenced by personal choices and decisions.