Meaningful Monuments, Grades 9-11
Last updated on
Wednesday, October 2nd, 2019
Program Description
This program offers the opportunity to examine two local heritage sites in detail—the train station and the pier—in order to better understand how they came to be sites of significance in White Rock. Students will explore this by interacting with the permanent gallery, and reviewing newspaper articles and historic photographs.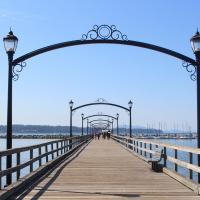 Big Ideas
Creative arts experiences can build community and nurture relationships with others.
Identity is explored, expressed, and impacted through arts experiences.
The arts provide opportunities to gain insight into the perspectives and experiences of people from a variety of times, places, and cultures.
Exploring stories and other texts helps us understand ourselves and make connections to others and to the world.
People understand text differently depending on their worldviews and perspectives.
Questioning what we hear, read, and view contributes to our ability to be educated and engaged citizens.
Texts are socially, culturally, and historically constructed.
Collective identity is constructed and can change over time.
Disparities in power alter the balance of relationships between individuals and between societies.
Emerging ideas and ideologies profoundly influence societies and events.
The physical environment influences the nature of political, social, and economic change.