Richmond Museum -Let's Celebrate Winter!
Last updated on
Wednesday, September 25th, 2019
Program Description
Discover Richmond's diverse cultures by exploring multicultural winter celebrations, from First Nations to European, Asian and African traditions. Unwrap mystery presents that hold clues about a cultural winter celebration, play a Japanese New Year game and make a Victorian Christmas craft.
Please download the Field Trip Guide from our website: http://www.richmondmuseum.ca/field-trips/
Register online at http://bit.ly/RMHSFieldTrip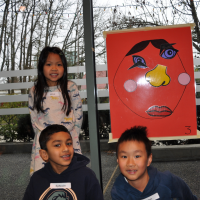 Big Ideas
Our communities are diverse and made of individuals who have a lot in common.
Healthy communities recognize and respect the diversity of individuals and care for the local environment.
Canada is made up of many diverse regions and communities.
People from diverse cultures and societies share some common experiences and aspects of life.
Additional Notes
This program takes place at the Richmond Museum, 7700 Minoru Gate - inside the Library & Cultural Centre.