Salish Weaving Workshop with Roxanne Charles
Last updated on
Wednesday, October 2nd, 2019
Program Description
This program offers the opportunity to learn about Coast and Straits Salish culture through the contemporary presence of the Semiahmoo First Nation on the Peninsula. Students will hear stories, explore artwork by Semiahmoo artists and carvers, and engage in a contemporary Salish weaving activity led by artist Roxanne Charles.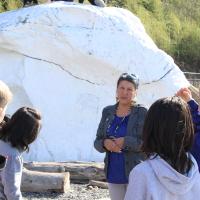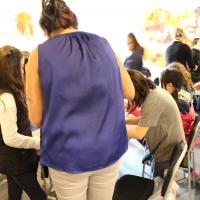 Big Ideas
Artists experiment in a variety of ways to discover new possibilities.
Creative expression is a means to explore and share one's identity within a community.
Dance, drama, music, and visual arts are each unique languages for creating and communicating.
Exploring works of art exposes us to diverse values, knowledge, and perspectives.
Engaging in creative expression and experiences expands people's sense of identity and belonging.
Works of art influence and are influenced by the world around us.
Artistic expressions differ across time and place.
Engaging in creative expression and experiences expands people's sense of identity and community.
Experiencing art is a means to develop empathy for others' perspectives and experiences.
Interactions between First Peoples and Europeans lead to conflict and cooperation, which continues to shape Canada's identity.
The pursuit of valuable natural resources has played a key role in changing the land, people, and communities of Canada.
Canada's policies and treatment of minority peoples have negative and positive legacies.
Canadian institutions and government reflect the challenge of our regional diversity.
Immigration and multiculturalism continue to shape Canadian society and identity.
Natural resources continue to shape the economy and identity of different regions of Canada.
Complex global problems require international cooperation to make difficult choices for the future.
Economic self-interest can be a significant cause of conflict among peoples and governments.