Secondary School Performing Arts Workshops
Last updated on
Thursday, July 11th, 2019
Program Description
Secondary School students will work on their critical thinking, communication and social skills as they use teamwork, vocal and physical awareness and expression to collaborate on the presentation of their Big Idea. Available September through June.
LOOKING FOR SOMETHING ELSE?
Many of our Middle School workshops can be customized to meet the requirements of secondary school students, and are created upon request. To discuss options and for more information, please contact the Box Office at 604-927-6552.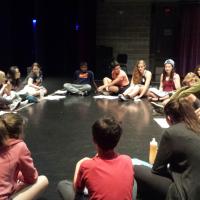 Big Ideas
Creative arts experiences can build community and nurture relationships with others.
Dance, drama, music, and visual arts each use their own unique sensory language for creating and communicating.
Identity is explored, expressed, and impacted through arts experiences.
The arts provide opportunities to gain insight into the perspectives and experiences of people from a variety of times, places, and cultures.