Stepping into Nature
Last updated on
Friday, March 13th, 2020
Program Description
Stepping into Nature is a week-long outdoor education event that welcomes over 400 grade 6 and 7 students to the Delta Nature Reserve each year. Classes spend a full day learning about what makes Burns Bog unique and how they can have a positive impact on the environment.
Students rotate through festival stations, guided by grade 10's from a local leadership program. Each station is created by Society staff and community partners; experts in environmental science, ecology and outdoor education. These adult mentors train the leadership students to build their public speaking and communication skills.
Festival Goals
1. Reconnect students with nature using a hands-on, holistic, place-based approach.
2.  Emphasize the importance of Burns Bog as an organism, ecosystem and a resource.
3. Promote personal, environmental and community well-being and engagement.
Inspired by Richard Louv's famous book The Last Child in the Woods, the Festival reminds students to shut off technology and reconnect with nature in a meaningful way. The Stepping into Nature Festival uses the latest tools in environmental education and BC's new K-12 curriculum to build on children's natural curiosity of the world.
Festival Topics
Bogs, Peatlands and Wetlands               Species Adaptations and Biodiversity
Ecological Restoration                              Ecosystems, Food Webs and Interactions
Species at Risk and Habitat Loss             Indigenous Worldviews and Traditional Practices
Resources and Human Impact                Tools and Techniques in Environmental Science
Event Details
LOCATION Delta Nature Reserve (Planet Ice Parking Lot) 10389 Nordel Court, Delta BC
DATE September 29th, 30th, October 1st, or 2nd 2020 (Choose One)
TIME 10:00am – 2:00pm 
*Please plan to arrive at approximately 9:45 for opening ceremonies.
PRICE $10 per student
*Minimum group size 20 students, maximum group size 30 students per booking.
**Groups with less than 20 students will be charged the minimum fee of $200.00.
***Transportation to and from the Stepping into Nature Festival is not included registration costs.
     Additional support may be available for schools that demonstrate financial need.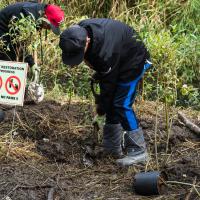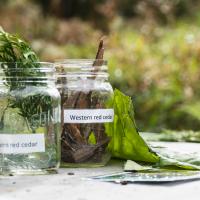 Big Ideas
New experiences, both within and outside of school, expand our career skill set and options.
Complex tasks may require multiple tools and technologies.
Complex tasks require the acquisition of additional skills.
Multicellular organisms rely on internal systems to survive, reproduce, and interact with their environment.
Earth and its climate have changed over geological time.
Evolution by natural selection provides an explanation for the diversity and survival of living things.
Exploring and sharing multiple perspectives extends our thinking.
Exploring stories and other texts helps us understand ourselves and make connections to others and to the world.
Questioning what we hear, read, and view contributes to our ability to be educated and engaged citizens.
Complex global problems require international cooperation to make difficult choices for the future.
Economic self-interest can be a significant cause of conflict among peoples and governments.
Economic specialization and trade networks can lead to conflict and cooperation between societies.
Geographic conditions shaped the emergence of civilizations.
Religious and cultural practices that emerged during this period have endured and continue to influence people.
Additional Notes
All registered teachers will be emailed a Welcome Package beginning two weeks prior to their Festival booking. Welcome packages include directions to the Delta Nature Reserve, a Festival site map, FAQ's and important contact information. Welcome Packages also include Acknowledgement of Risk, Consent and Release forms.
Completed Release forms are to be signed by parents/guardians of all participating students and returned to teachers prior to the start of each Festival day. Society staff will collect completed forms from attending teachers.
Release forms are mandatory for participation in Stepping into Nature.