Visual Arts Studio Intensives
Last updated on
Thursday, July 11th, 2019
Program Description
Studio-Only Sessions
Our Studio Intensives are two-hour classes that provide your students with an intensive and instructive hands-on studio-based experience. These classes are offered only when the Art Gallery is closed for installation. We are unable to accommodate any scheduling exceptions. Please contact the Box Office for all date options.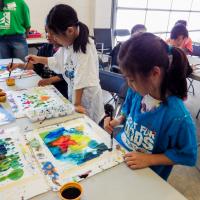 Big Ideas
Creative expression develops our unique identity and voice.
Inquiry through the arts creates opportunities for risk taking.
People connect to the hearts and minds of others in a variety of places and times through the arts.
Artists experiment in a variety of ways to discover new possibilities and perspectives.
Engaging in creative expression and experiences expands people's sense of identity and belonging.
Works of art influence and are influenced by the world around us.