COAST SALISH WOOL WEAVING
Last updated on
Thursday, April 14th, 2022
Experience type:
Virtual Field Trip
Program Description
In Sḵwx̱wú7mesh culture, the first item made of any art form is to be given away. During this workshop students will make two woven bracelets, the first will be given away as part of the upcoming opening of the new MONOVA: Museum of North Vancouver (planned for later in 2021) and the second is theirs to keep.
As this is a hands-on workshop, supplies will be provided for students and available for teachers to pick up from MONOVA: Archives of North Vancouver at 3203 Institute Road in Lynn Valley. Appointments are required. Please arrange a time to pick up the supplies when registering for the workshop. .
COVID-safety: All weaving kits will have been quarantined for three days prior to distribution.
Your students will:
Learn Coast Salish teachings around wool weaving.
See how weaving is done and try making their own woven bracelet.
Find out about the cultural importance of giving and share their work with their community.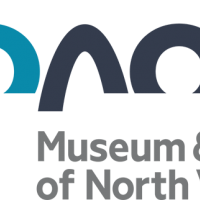 Big Ideas
Dance, drama, music, and visual arts are each unique languages for creating and communicating.
Indigenous knowledge is passed down through oral history, traditions, and collective memory.
Interactions between First Peoples and Europeans lead to conflict and cooperation, which continues to shape Canada's identity.
COVID Precautions
MONOVA Covid-Safety Guidelines:
Masks are required
Hand sanitation stations are set up around the Museum. 
Physical distancing is actively encouraged
 
Additional Notes
COVID- 19 KIT PROTOCOL
To pick up kits, teachers should:
Schedule drop-off and pick-up times to accommodate safe physical distancing.
Wear masks inside the building and keep 2 metres apart.
Review kit contents when picking up to avoid excessive handling by staff.
Kits are isolated for a minimum of 3 days between uses.
CONTACT
programs@monova.ca
604-980-3700