East of the Rockies
Last updated on
Monday, November 30th, 2020
Experience type:
Online Resource
Program Description
Beginning after the attack on Pearl Harbor on December 7, 1941, and lasting until 1949 (four years after World War II had ended), Canadians of Japanese heritage were removed from their homes and businesses and sent to internment camps in the B.C. interior, and to farms and internment camps across Canada.
Download East of the Rockies, an augmented reality app written by Joy Kogawa and released by the National Film Board of Canada.
Winner of best video game narrative at the 2020 Canadian Screen Awards.
Find out more https://www.eastoftherockies.com/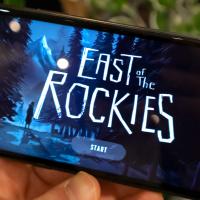 Big Ideas
Canada's policies and treatment of minority peoples have negative and positive legacies.