RIDING WITH CHANGE!: HISTORY PERFORMED!
Last updated on
Thursday, April 14th, 2022
Experience type:
In-Person
Program Description
This 20 minute one-person show is ideal for groups of youth and adults. Through this exciting and thoughtful show, explore MONOVA's centrepiece installation, Streetcar #153.
After the play, the actor-interpreter will engage in post-show dialogue and share some archival images.
Minimum 10 people per group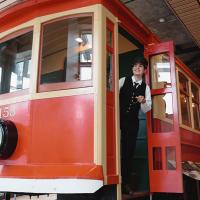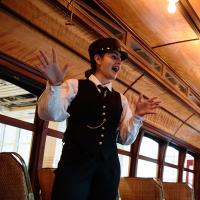 Big Ideas
Engaging in the arts develops people's ability to understand and express complex ideas.
Experiencing art challenges our point of view and expands our understanding of others.
Through art making, one's sense of identity and community continually evolves.
Artists often challenge the status quo and open us to new perspectives and experiences.
Creative growth requires patience, readiness to take risks, and willingness to try new approaches.
Individual and collective expression can be achieved through the arts.
Creative arts experiences can build community and nurture relationships with others.
Dance, drama, music, and visual arts each use their own unique sensory language for creating and communicating.
Identity is explored, expressed, and impacted through arts experiences.
The arts provide opportunities to gain insight into the perspectives and experiences of people from a variety of times, places, and cultures.
Rights, roles, and responsibilities shape our identity and help us build healthy relationships with others.
Stories and traditions about ourselves and our families reflect who we are and where we are from.
COVID Precautions
MONOVA Covid-Safety Guidelines:
Masks are required
Hand sanitation stations are set up around the Museum. 
Physical distancing is actively encouraged
Additional Notes
Ages: 10+
Museum Fieldtrip
CONTACT