SQUAMISH COMMUNITY: OUR PEOPLE OUR PLACES KIT
Last updated on
Thursday, April 14th, 2022
Experience type:
Outreach Boxes
Program Description
Students explore and analyse archival photographs featuring Sḵwx̱wú7mesh (Squamish) people and places chosen from an exhibit presented at the North Vancouver Museum & Archives (NVMA) in 2010. This was a shared project of the NVMA and the Sḵwx̱wú7mesh Úxwumixw (Squamish Nation). The Squamish Elders and Language Authority chose these photos that represent local landscapes, the community and individuals, and contributed to exhibit research.
Your students will:
Recognize that the Sḵwx̱wú7mesh Úxwumixw (Squamish Nation) is an active community today on the North Shore.
Discover aspects of Sḵwx̱wú7mesh (Squamish) history and culture through photos.
View primary source evidence and develop photo analysis skills.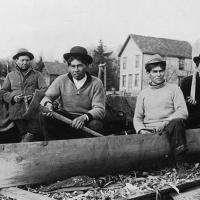 Big Ideas
Indigenous knowledge is passed down through oral history, traditions, and collective memory.
Learning about indigenous peoples nurtures multicultural awareness and respect for diversity.
Interactions between First Peoples and Europeans lead to conflict and cooperation, which continues to shape Canada's identity.
Canadian institutions and government reflect the challenge of our regional diversity.
Natural resources continue to shape the economy and identity of different regions of Canada.
Additional Notes
COVID- 19 KIT PROTOCOL
To pick up kits, teachers should:
Schedule drop-off and pick-up times to accommodate safe physical distancing.
Wear masks inside the building and keep 2 metres apart.
Review kit contents when picking up to avoid excessive handling by staff.
Kits are isolated for a minimum of 3 days between uses.
CONTACT