Survivor Outback Kids
Last updated on
Wednesday, August 26th, 2020
Experience type:
In-Person
Program Description
Come up to Squamish for a great day of fun adventures. Students will enjoy the morning working together in teams on challenges seen on the popular TV series. Then, after a delicious lunch, it's time for a scenic river experience on our kid-friendly Cheakamus Splash river trip.
Have a really large group? In the morning while one half are doing Survivor, the other half will hop on the river. Then they'll swap!
WHAT'S INCLUDED?
2-hour SURVIVOR event
1-hour LUNCH break
3-hour CHEAKAMUS river adventure
PHOTOS of the day
This is a full-day event. Check-in time in Squamish is 9:30am for a 10am Survivor start time, lunch is at 12pm, and the Cheakamus river trip begins at 1pm. Finish and departure time from Squamish will be approximately 4:30pm.
*Please contact us if you need a customized itinerary!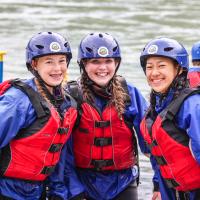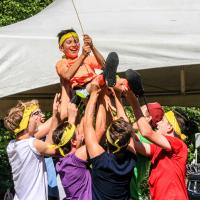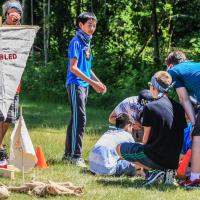 Big Ideas
Exploring our strengths and abilities can help us identify our goals.
Family and community relationships can be a source of support and guidance when solving problems and making decisions.
Good learning and work habits contribute to short- and long-term personal and career success.
Leadership requires listening to and respecting the ideas of others.
Leadership represents good planning, goal-setting, and collaboration.
New experiences, both within and outside of school, expand our career skill set and options.
Practising respectful, ethical, inclusive behaviour prepares us for the expectations of the workplace.
Safe environments depend on everyone following safety rules.
Achieving our learning goals requires effort and perseverance.
Skills are developed through practice, effort, and action.
All living things sense and respond to their environment.
Earth and its climate have changed over geological time.
Engaging in creative expression and experiences expands people's sense of identity and belonging.
Developing healthy relationships helps us feel connected, supported, and valued.
Knowing what we enjoy doing and knowing about our opportunities to participate in those activities helps us develop an active lifestyle
Personal choices and social and environmental factors influence our health and well-being.
Healthy choices influence our physical, emotional, and mental well-being.
Advocating for the health and well-being of others connects us to our community.
The pursuit of valuable natural resources has played a key role in changing the land, people, and communities of Canada.
Natural resources continue to shape the economy and identity of different regions of Canada.
COVID Precautions
https://www.canadianoutbackrafting.com/covid-19-update/ Please see all of our Covid19 precautions at the link above.
Additional Notes
Maximum students: no maximum number of students.
The trip can also be customized with the river activity taking place on the Elaho & Squamish rivers for older groups (13+ years old and 90+ lbs) at an additional cost.