Windows to the Past
Last updated on
Thursday, September 6th, 2018
Program Description
Our award-winning curriculum engages and stimulates students to connect the history of a young German immigrant family in Vancouver (between1880s-1920s) to their own and to reflect on immigration and social and cultural differences. The visit is split into 3 parts: architectural drawing (house and neighborhood), a tour of the house (during which children learn about the history of a family and of the city of Vancouver), and the discovery of unusual historical artifacts. This curriculum is particularly geared towards Grade 5 students, but can be easily adapted or used for other grades.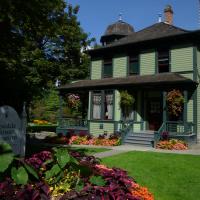 Big Ideas
Demographic changes in North America created shifts in economic and political power.
The pursuit of valuable natural resources has played a key role in changing the land, people, and communities of Canada.
Immigration and multiculturalism continue to shape Canadian society and identity.
Additional Notes
Vancouver Schools: upon booking the visit, we arrange the Vancouver School Board to deliver a "School Kit" box approx. 2 weeks before your visit (returnable 2 weeks post-visit). The kit contains a curriculum, video, & many interesting artifacts. (Schools outside Vancouver must arrange a rental of School Kit for a modest rental fee via our office)"