Discover the Port of Vancouver Virtually!
Last updated on
Tuesday, September 1st, 2020
Experience type:
Virtual Field Trip
Program Description
In light of the COVID-19 pandemic, we are adapting to new ways of working using creativity and innovation. The in-person presentations are currently on-hold and we brainstormed ways to bring our education experience to you and your students.
As we enter the 2020-2021 academic year, we are offering two options for the presentation normally given in either the Port of Vancouver Discovery Centre or in-class.
Option 1: "Live" virtual presentations for your classroom with our community outreach coordinator
Part 1: 60 minute presentation (intro to the port and five business sectors)
Part 2: 45 minute presentation (sustainability, imports, exports and international trade)
Option 2: A pre-recorded presentation, with eight segments, hosted by our community outreach coordinator
We also have online activities and resources available such as supplemental videos, kahoot games, map activities, crossword puzzles, wordsearches and more on our website: portvancouver.com/schoolprogram
Contact us at education@portvancouver.com for more information about the program and to book.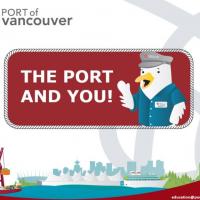 Big Ideas
Family and community relationships can be a source of support and guidance when solving problems and making decisions.
Leadership requires listening to and respecting the ideas of others.
New experiences, both within and outside of school, expand our career skill set and options.
Our attitudes toward careers are influenced by our view of ourselves as well as by our friends, family, and community.
The pursuit of valuable natural resources has played a key role in changing the land, people, and communities of Canada.
Natural resources continue to shape the economy and identity of different regions of Canada.
Complex global problems require international cooperation to make difficult choices for the future.