Living Dinosaurs: The White Sturgeon
Last updated on
Saturday, August 1st, 2020
Experience type:
In-Person
Program Description
(Grades K-7) Assess the survival needs of white sturgeon with a special focus on evaluating human impacts on the environment. The program includes hands-on stations about sturgeon life cycle and anatomy, and a sturgeon survival game focused on the habitat needs of sturgeon in the Fraser River.
This program is divided into:
Introduction to the Centre and Program Content (5 minutes)
PowerPoint (15 minutes) 
Stations (20 minutes each)

Anatomy and Life Cycle (Explore the life cycle stages of the river sturgeon with our life sized model and perserved samples)
Sturgeon Survival Game (Consider the obstacles in the different stages of a sturgeons life with this consequence judgement game)
Station #3 is Age Dependent

Felt Board Habitat (K-2) (Explore and create a narrative story around the life of sturgeon)
Water Testing (2-3) (Use the scientific method to test a water sample taken by the class from our boardwalk)
Tagging Lesson (3-7) (Role-play as marine biologists, using the math inquiry that they would to learn more about sturgeon)

Conclusion, Theatre (10 minutes)
For more information, visit our website or email us. 
*In the 2020-2021 school year, this program may be available for in-class outreach, with an educator and all the materials coming to your school in-person. To provide us with more information on what you would like from in-class outreach, fill in our survey.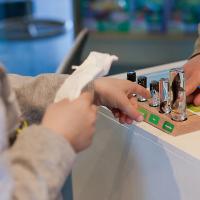 Big Ideas
All living things sense and respond to their environment.
Multicellular organisms have organ systems that enable them to survive and interact within their environment.
Multicellular organisms rely on internal systems to survive, reproduce, and interact with their environment.
Evolution by natural selection provides an explanation for the diversity and survival of living things.
COVID Precautions
With the continued safety and well-being of our visitors, staff and volunteers the highest priority, we have developed a safety plan in accordance with WorkSafeBC guidelines. Our COVID-19 safety guide can be found on our website: https://fraserriverdiscovery.org/wp-content/uploads/2020/06/WORKSAFE-BC-FRDC-COVID-19-SAFETY-PLAN-Final.pdf If you have any concerns about visiting the center that are not addressed in the safety plan, please email or call us and we can work together to make sure that your visit is a safe one.
Additional Notes
This program includes a 10 minute outdoor segment.