My River My Home
Last updated on
Saturday, August 1st, 2020
Experience type:
Online Resource
Program Description
Help students discover the Fraser River through creative, hands-on activities designed with British Columbia's school curriculum in mind.
Download our free My River, My Home Resource Kit for lesson plans, activities and background information related to the ecosystems, cultures and industries connected to the Fraser River. The kit aligns with our fully guided education programs, with many activities that are suitable to extend learning before or after field trips to the Fraser River Discovery Centre.
Complementing the award winning "My River My Home" exhibit at the Fraser River Discovery Centre in New Westminster, the free 100-page, user-friendly guide:
Includes 25 lesson plans and background information for educators
Challenges students to see the Fraser River holistically, exploring concepts of environmental, cultural and economic sustainability through creative activities, writing prompts and hands-on activities
Activities meet BC Ministry of Education Curriculum requirements for grades K-9 and address BC's new cross-curricular competencies (critical thinking, personal and social awareness and responsibility, and communication skills).
The kit is divided into 5 sections that can be explored independently or used to create an inquiry unit about the Fraser River:
Connect: students are asked to activate previous knowledge and explore the question "What is my connection to the Fraser River?"
Develop Knowledge and Explore Sustainability: students explore the cultural, economic, and environmental sustainability of the Fraser River.
Investigate Water Quality: introduces water quality and outlines the Taking the Pulse of the Fraser program available at the Discovery Centre.
Putting the Fraser on the Global Map: students study and compare the cultures, environment, and art, and water quality data from the Fraser, Amazon, Congo, Ganges-Brahmaputra, and Kolyma rivers.
What's Next: The final section encourages students to become active citizens in water quality issues.
For suggestions on how to use or modify an activity in the kit, or to book a professional development workshop for educators on using the kit with your students, please contact [email protected].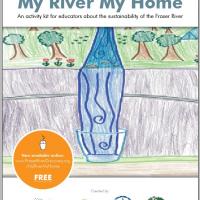 Big Ideas
Familiar events can be described as likely or unlikely and compared.
Numbers represent quantities that can be decomposed into smaller parts.
Objects have attributes that can be described, measured, and compared.
One-to-one correspondence and a sense of 5 and 10 are essential for fluency with numbers.
Repeating elements in patterns can be identified.
Daily and seasonal changes affect all living things.
Humans interact with matter every day through familiar materials.
Plants and animals have observable features.
The motion of objects depends on their properties.
Dance, drama, music, and visual arts express meaning in unique ways.
Engagement in the arts creates opportunities for inquiry through purposeful play.
People connect to others and share ideas through the arts.
People create art to express who they are as individuals and community.
Curiosity and wonder lead us to new discoveries about ourselves and the world around us.
Everyone has a unique story to share.
Language and story can be a source of creativity and joy.
Playing with language helps us discover how language works.
Stories and other texts can be shared through pictures and words.
Stories and other texts help us learn about ourselves and our families.
Through listening and speaking, we connect with others and share our world.
Our communities are diverse and made of individuals who have a lot in common.
Rights, roles, and responsibilities shape our identity and help us build healthy relationships with others.
Stories and traditions about ourselves and our families reflect who we are and where we are from.
COVID Precautions
With the continued safety and well-being of our visitors, staff and volunteers the highest priority, we have developed a safety plan in accordance with WorkSafeBC guidelines. Our COVID-19 safety guide can be found on our website: https://fraserriverdiscovery.org/wp-content/uploads/2020/06/WORKSAFE-BC-FRDC-COVID-19-SAFETY-PLAN-Final.pdf If you have any concerns about visiting the center that are not addressed in the safety plan, please email or call us and we can work together to make sure that your visit is a safe one.