Welcomed by the Water
Last updated on
Saturday, August 1st, 2020
Experience type:
In-Person
Program Description
(K-3) Prior to European colonization, Indigenous peoples got what they needed from the land and water around them. Indigenous people have relied on salmon since the fish became abundant in the Fraser River about 5000-6000 years ago. They used native plants for food, medicine, building materials and more. This program explores the connection between Indigenous people, salmon, and the broader Fraser River Basin. Students experience the movement of salmon, storytelling and oral histories, and the many uses of native plants through an Indigenous perspective.
This program is divided into:
Introduction to program, centre and rules Outside (5 minutes)
Read aloud P'ésk'a and the First Salmon Ceremony (20 minutes)
Stations (20 minutes each)

Salmon Life Cycle and Migration (An acting game where students envision themselves as migrating salmon)
Build a Plant (Understand traditional Indigenous uses for local plants, and invent a possible new plant)

Film (Salmon origin traditional Indigenous oral stories) (20 minutes)
Conclusion (5 minutes)
For more information, visit our website or email us. 
*In the 2020-2021 school year, this program may be available for in-class outreach, with an educator and all the materials coming to your school in-person. To provide us with more information on what you would like from in-class outreach, fill in our survey.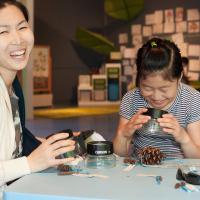 Big Ideas
Daily and seasonal changes affect all living things.
Plants and animals have observable features.
Living things have features and behaviours that help them survive in their environment.
Our communities are diverse and made of individuals who have a lot in common.
Stories and traditions about ourselves and our families reflect who we are and where we are from.
Our rights, roles, and responsibilities are important for building strong communities.
COVID Precautions
With the continued safety and well-being of our visitors, staff and volunteers the highest priority, we have developed a safety plan in accordance with WorkSafeBC guidelines. Our COVID-19 safety guide can be found on our website: https://fraserriverdiscovery.org/wp-content/uploads/2020/06/WORKSAFE-BC-FRDC-COVID-19-SAFETY-PLAN-Final.pdf If you have any concerns about visiting the center that are not addressed in the safety plan, please email or call us and we can work together to make sure that your visit is a safe one.
Additional Notes
This program includes a 10 minute outdoor segment.