2 hour Rope Runner Aerial Adventure
Last updated on
Friday, June 18th, 2021
Experience type:
In-Person
Program Description
Last year, more than 40 different schools and summer camps came to experience this unique aerial activity, and many are repeating the adventure this year.  Rope Runner provides a safe environment for students to push their limits, gain self-confidence, develop problem solving skills, communication and team spirit.
How does it work? 
After a brief introduction and a safety briefing, your group will have full reign of the rope course to explore and challenge themselves across 50 fun elements such as suspended bridges, cargo nets, climbing walls, zip rides and more! 

The safety system always keeps everyone safe and secured and our Guides are consistently roaming in the park to provide tips and tricks and help out as needed.

Climbers are creating their own adventures, at their own pace within their capacity and can stop playing at any time. The park is suited for all skill levels.
Age and Height requirements
In order for a student to climb they must:
Be at least 7 years old and be 124cm (49 inches) tall *

Be at least 10 years old and be 139cm (55 inches) tall to climb alone in the park **
* The child to adult chaperone ratio for children under 55″ tall is 2:1
** Children under 19 years of age must have a consenting parent or legal guardian sign their release of liability waiver.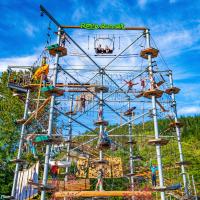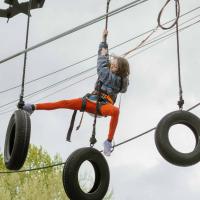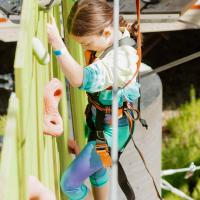 Big Ideas
Daily physical activity enables us to practice skillful movement and helps us develop personal fitness.
Healthy choices influence our physical, emotional, and mental well-being.
Physical literacy and fitness contribute to our success in and enjoyment of physical activity
We experience many changes in our lives that influence how we see ourselves and others.
Lifelong participation in physical activity has many benefits and is an essential part of a healthy lifestyle.
COVID Precautions
At Rope Runner, the safety of our guests and staff is of paramount importance to our operations. During these unusual times, we are taking measures to keep everyone safe while continuing to provide a fun experience for all. The following are the key measures in place to keep everyone safe: Reduced operational capacity to accommodate physical distancing guidelines. Only climbers with a booking will be allowed on premises. Increased cleaning frequency of the entire facility with a focus on high touch areas. Extensive safety signage. Contact tracing. Equipment rotation and sanitization. Multiple hand sanitizing stations available throughout the park. Daily staff temperature checks and health assessments. Credit and debit will be the only accepted payments forms with contactless methods preferred. Every guest will be asked to self-screen and answer some questions about their current condition.