The Chief Dan George Story Kit (Grades 3 to 5)
Last updated on
Wednesday, August 14th, 2019
Program Description
Through images and activities, students will explore the life and legacy of Tsleil-Waututh Chief Dan George. Themes include the significance of his acting career, activism, and his efforts to preserve local indigenous traditions. The kit includes lesson plans which encourage discussion and critical thinking.
Visit https://nvma.ca/education/school-programs/ to view the teacher's guide.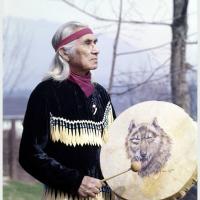 Big Ideas
Indigenous knowledge is passed down through oral history, traditions, and collective memory.
Learning about indigenous peoples nurtures multicultural awareness and respect for diversity.
Interactions between First Peoples and Europeans lead to conflict and cooperation, which continues to shape Canada's identity.
Canada's policies and treatment of minority peoples have negative and positive legacies.
Additional Notes
2-week loan period. Kit can be picked up at the Community History Centre (3203 Institute Rd., North Vancouver).