Chinatown, Existing
Last updated on
Monday, October 3rd, 2022
Experience type:
In-Person
Program Description
Since early migration until now, Chinese Canadians have had and continue to have diverse and complex relationships with Canada. Racial discrimination against Chinese Canadians was prevalent during the creation of the nation, yet their individual voices and experiences are often left out of the historical narrative. In this three-part field trip consisting of a visit to the Chinese Canadian Museum, the Dr. Sun Yat Sen Classical Chinese Garden, as well as a mini Chinatown walking tour, students will explore the endurance of Vancouver Chinatown and the resilience of the Chinese Canadian community through stories of food, community, and activism.
This field trip for Gr 9 and 10 is hosted collaboratively in partnership by the Chinese Canadian Museum and Dr Sun Yat-Sen Chinese Garden, and features research and content development by the UBC Initiative for Student Teaching and Research in Chinese Canadian Studies (UBC INSTRCC)
Please see chinatownexisting.wordpress.com for more details.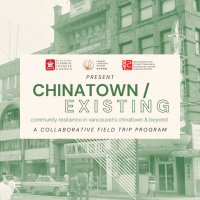 Big Ideas
Collective identity is constructed and can change over time.
Disparities in power alter the balance of relationships between individuals and between societies.
Emerging ideas and ideologies profoundly influence societies and events.