Digital Heritage Christmas in the Historic Stewart Farmhouse
Last updated on
Tuesday, December 1st, 2020
Experience type:
Virtual Field Trip
Program Description
Historic Stewart Farm is now offering live, virtual school programs. Without leaving your classroom,  an experienced costumed guide will lead your class on a virtual tour around the Farmhouse, providing curriculum current interpretation. Explore the history of local holiday celebrations, family roles, and how newcomers shaped the environment around them. This 60-minute program costs $53 and will be booked on a first-come, first-served basis. Programs are available for booking now and take place Dec 2 to 18, Wed-Fri, at 10:30am.
To reserve your program spot please contact the Historic Stewart Farm at 604-591-4627 or email StewartFarm@surrey.ca. Please leave a message with the preferred date and grade level.
Please Note: We will be using the Microsoft Teams platform to deliver this program. To ensure a smooth program we require a technical 'check-in' prior to your scheduled program - we will discuss this with you upon booking. A projector, screen, and a laptop with speakers and microphone are required.
Hands On Activity Add-on:
A heritage craft activity is also available for an additional $25. The craft teaches students how to create their own wooden top, just like newcomer children in the past. This activity package must be picked up before your scheduled program and will be led by the heritage instructor after the program. The craft activity will take an additional 15-25 minutes after the program.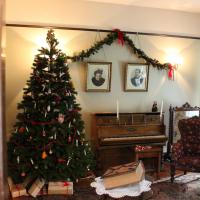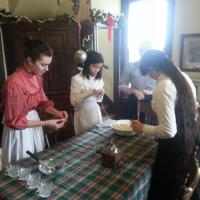 Big Ideas
Healthy communities recognize and respect the diversity of individuals and care for the local environment.
Our rights, roles, and responsibilities are important for building strong communities.
We shape the local environment, and the local environment shapes who we are and how we live.
Canada is made up of many diverse regions and communities.
Individuals have rights and responsibilities as global citizens.
Local actions have global consequences, and global actions have local consequences.
People from diverse cultures and societies share some common experiences and aspects of life.
British Columbia followed a unique path in becoming a part of Canada.
The pursuit of valuable natural resources has played a key role in changing the land, people, and communities of Canada.
Immigration and multiculturalism continue to shape Canadian society and identity.
Natural resources continue to shape the economy and identity of different regions of Canada.