Explore Issues about Ocean Plastics and Ocean Conservation
Last updated on
Thursday, July 6th, 2023
Experience type:
Online Resource
Program Description
About This Online Resource:  EPIC Academy Ocean Plastics Curriculum
A fully funded, fully developed curriculum targeted at secondary students ages 14+ (with materials accessible for lower grades as well) that is a comprehensive and thorough examination of ocean plastic pollution, microplastics and ways to help mitigate these serious issues. Content is available either as an online offering that students can navigate on their own, or can be accessed through downloadable offerings and presented offline in class. We highly recommend use of downloadable supports for classroom use.
10 lessons (15 hours of study in total) available in English, French and Spanish, aligned with BC Curriculum. Content can be paused at any point and returned to at the instructor's convenience (auto-saves).
Educator Materials include: detailed lesson plans and classroom presentations, reflective and group activities, quizzes and answer sheets.
Digital badges are available for every lesson and printable certificates are provided on completion.
Lessons 1 to 5 are foundational knowledge specifically directed toward classroom educators. Lessons 6 to 10 are advanced, directed toward creating meaningful change by advocacy, enacting policy, building a recycling system or upgrading infrastructure and managing media.  
Access requires the creation of a login that allows teachers (or individual users) to track progress through the lessons. This links to completed content for printable certificates.
There are 5 questions asked during the registration process: Are you a teacher or a student? What is your school/location if applicable? What country are you learning from? What language are you learning in? How did you hear about this resource?
STAY TUNED for upcoming listings of in-person tours at our Ocean Plastics Recycling Facility located in Steveston Harbour, Richmond.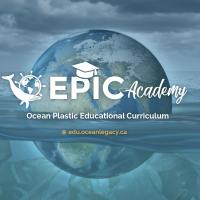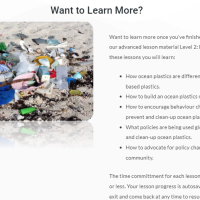 Big Ideas
The biosphere, geosphere, hydrosphere, and atmosphere are interconnected, as matter cycles and energy flows through them.
Disparities in power alter the balance of relationships between individuals and between societies.
Emerging ideas and ideologies profoundly influence societies and events.
The physical environment influences the nature of political, social, and economic change.
Additional Notes
This online resource has no limit to the number of users who can access content and is available in English, French and Spanish.