Holocaust Survivor Speaker Presentations on Zoom
Last updated on
Friday, September 18th, 2020
Experience type:
Virtual Field Trip
Program Description
Holocaust Survivor Speakers share their experiences of persecution, discrimination and loss with teachers and students from their homes on Zoom.
Engaging with a Holocaust Survivor Speaker prompts your students to think in depth about social justice and human rights. Your students gain a better understanding of what it means to take on individual and social responsibilities, as many survivors address taking action toward a more just world.
The program's duration is 60 minutes (40-minute survivor presentation followed by a 20-minute question period). A small number of speakers are able to address groups in French.
Recommended for students in grades 6 to 12
Recommended class size of as many students as possible up to a maximum of 95.
Free of charge until December 2020, thanks to the generous sponsorship from the Diamond Foundation
For more information and bookings visit: https://www.vhec.org/school-programs/outreach-holocaust-speakers/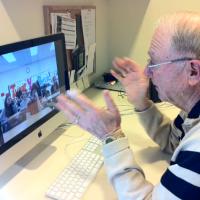 Big Ideas
Exploring stories and other texts helps us understand ourselves and make connections to others and to the world.
Questioning what we hear, read, and view contributes to our ability to be educated and engaged citizens.
Texts are socially, culturally, and historically constructed.