Indigenous People in North Vancouver Book Kits
Last updated on
Tuesday, December 1st, 2020
Experience type:
Outreach Boxes
Program Description
This large-format, illustrated book and Teacher's Package look at the history, traditions and culture of the Squamish and Tsleil-Waututh peoples. Written by Squamish language teacher Khelsilem, the book highlights significant aspects of traditional and contemporary cultures.
The Kit includes lesson plans for intermediate or secondary levels that encourage discussion and critical thinking at all grade levels. Also available in French: Le livre des peuples autochtones a Vancouver Nord.
Format: The Kit comes with one hardcover copy of the book as well as an electrionic copy of it, 22 laminate pages from the book, and lesson plans for intermediate or secondary grades.
Visit https://monova.ca/indigenous-peoples-in-north-vancouver/ to view the intermediate and secondary teacher's guides.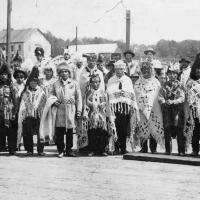 Big Ideas
Interactions between First Peoples and Europeans lead to conflict and cooperation, which continues to shape Canada's identity.
Canada's policies and treatment of minority peoples have negative and positive legacies.
Systems of government vary in their respect for human rights and freedoms.
Geographic conditions shaped the emergence of civilizations.
Contacts and conflicts between peoples stimulated significant cultural, social, political change.
Disparities in power alter the balance of relationships between individuals and between societies.
COVID Precautions
Teachers are asked to wear a mask and practice physical distancing when picking up and returning kits. Appointments are required for both pick up and drop off times. Kits will be isolated for a minimum of 3 days after they are returned. Only credit payment or cheques are being accepted at this time.
Additional Notes
2-week loan period. Kit can be picked up at the Community History Centre (3203 Institute Rd., North Vancouver).