Interpretive Programs
Last updated on
Wednesday, August 12th, 2020
Experience type:
In-Person
Program Description
Interpretive programs: Join Manning Park Resort's Naturalists and guest speakers for entertaining and educational programs at the Lightning Lake Amphitheatre, the Alpine Meadows, and at various locations throughout the park. Interpretive programs are available by request for groups.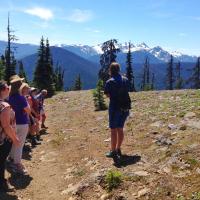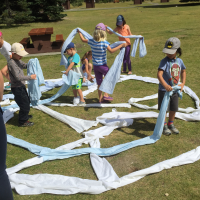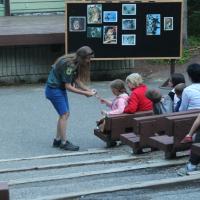 Big Ideas
Plants and animals have observable features.
Living things have features and behaviours that help them survive in their environment.
Observable patterns and cycles occur in the local sky and landscape.
Living things have life cycles adapted to their environment.
Water is essential to all living things, and it cycles through the environment.
Living things are diverse, can be grouped, and interact in their ecosystems.
Wind, water, and ice change the shape of the land.
All living things sense and respond to their environment.
Evolution by natural selection provides an explanation for the diversity and survival of living things.
COVID Precautions
Manning Park Resort is strictly operating under the guidance of the Provincial Health Officer with increased cleaning and safety protocols to ensure guest safety during COVID-19.
In the ampitheatre, every second row of benches is blocked off to ensure proper social distancing and groups are seated 6 feet apart from each other. Audience participation has shifted so students can stay in their seats the entirety of the program. Maximum numbers apply to ensure only 50 people are seated in the Ampitheatre, including any staff members.