MicroFarm
Last updated on
Thursday, January 6th, 2022
Experience type:
In-Person
Program Description
Micro plants. Micro flowers. Micro bugs. Micro students? There are so many tiny things to see on the farm! We'll practice using magnifying glasses and getting close to see how little things on the farm have a big impact, and practice caring for the smallest members of our living world.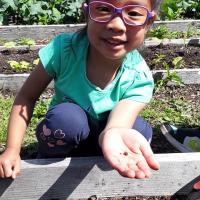 Big Ideas
Daily and seasonal changes affect all living things.
Plants and animals have observable features.
Daily physical activity helps us develop movement skills and physical literacy, and is an important part of healthy living.
Healthy communities recognize and respect the diversity of individuals and care for the local environment.
COVID Precautions
The best place to learn right now is outside! Our all-outdoor programs are COVID-conscious.  Activities will be no-contact, with all tools and non-paper materials sanitized between uses. Hand washing or sanitization will happen upon arriving at the site, before harvesting, before and after eating, as well as any other time hand washing would typically need to happen. All participants will be required to wear a mask or other suitable face covering while harvesting, just like our farmers do! We ask that teachers and chaperones help students remember to maintain their physical bubble/distance from one another and our staff. 
Additional Notes
Situated at Vancouver Technical and David Thompson secondary schools, our schoolyard farms are a short walk from many elementary schools and community centres. All field trips include a farm work experience, as well as a chance to harvest and taste veggies, when seasonally available. We require 1 teacher/chaperone for every 8 grade K-3 students.
Learn more and book your trip at freshroots.ca/education/field-trips/.