Parliamentary Play and Tour
Last updated on
Tuesday, March 7th, 2023
Experience type:
In-Person
Program Description
Looking for a new and exciting way to connect kids with Parliament? Sign your class up for The Parliamentary Play and Tour for Schools, an interactive new program that includes a guided tour of the parliament buildings and a travelling historical play on the grounds. 
The program runs from May 22 to the end of June, 2023.
Program Information:
The Parliamentary Play and Tour for Schools begins at the rear library steps. From there, the group will join a performance of My Place in Politics. This interactive, child-friendly travelling play that whisks audiences back in time, to 1947. They will meet suffragists, students, and the participants of the Chocolate Bar strike, who will teach them about different ways that Canadians have advocated for change in the past. Then, the group will enter the buildings for a guided tour that focuses on how change is made at the Parliament Buildings today. 
While The Parliamentary Play and Tour for Schools is fun for all grades, it has been designed with the Grade 5 and 6 social studies curricula in mind. The play focuses on participation and representation in Canada's systems of government and how groups developed a plan of action to address issues like discrimination, inequality, and the fight for human rights. It can also be modified to fit the Grade 10 Social Studies Curriculum.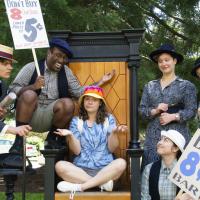 Big Ideas
Strong communities are the result of being connected to family and community and working together toward common goals.
Leadership requires listening to and respecting the ideas of others.
Family and community relationships can be a source of support and guidance when solving problems and making decisions.
Public identity is influenced by personal choices and decisions.
Leadership represents good planning, goal-setting, and collaboration.
Our attitudes toward careers are influenced by our view of ourselves as well as by our friends, family, and community.