From Pollution To Solution
Last updated on
Monday, August 3rd, 2020
Experience type:
In-Person
Program Description
(Grades 2-5) Determine how personal choices have environmental consequences by "polluting" a model of the lower mainland and brainstorming alternatives to common pollutants. 
This program is divided into:
Introduction to the Centre, Program and Rules (5 minutes)
PowerPoint Presentation (10 minutes)
Activities (25 minutes each)

Pollution Model and Solutions to Pollution (exploration of our hands-on model of non-point source polution in the Fraser Valley)
Water Conservation Station (Matching game of water saving tips)

Video: Journey of the Blob (10 minutes)
Conclusion (5 minutes)
For more information, visit our website or email us. 
*In the 2020-2021 school year, this program may be available for in-class outreach, with an educator and all the materials coming to your school in-person. To provide us with more information on what you would like from in-class outreach, fill in our survey.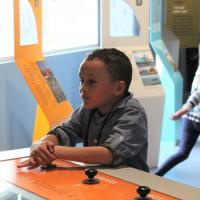 Big Ideas
Materials can be changed through physical and chemical processes.
Water is essential to all living things, and it cycles through the environment.
Living things are diverse, can be grouped, and interact in their ecosystems.
All living things sense and respond to their environment.
Multicellular organisms have organ systems that enable them to survive and interact within their environment.
Solutions are homogeneous.
Individuals have rights and responsibilities as global citizens.
Local actions have global consequences, and global actions have local consequences.
People from diverse cultures and societies share some common experiences and aspects of life.
The pursuit of valuable natural resources has played a key role in changing the land, people, and communities of Canada.
Natural resources continue to shape the economy and identity of different regions of Canada.
COVID Precautions
With the continued safety and well-being of our visitors, staff and volunteers the highest priority, we have developed a safety plan in accordance with WorkSafeBC guidelines. Our COVID-19 safety guide can be found on our website: https://fraserriverdiscovery.org/wp-content/uploads/2020/06/WORKSAFE-BC-FRDC-COVID-19-SAFETY-PLAN-Final.pdf If you have any concerns about visiting the center that are not addressed in the safety plan, please email or call us and we can work together to make sure that your visit is a safe one.
Additional Notes
This program includes a 10 minute outdoor segment.