Student Team Build
Last updated on
Thursday, January 6th, 2022
Experience type:
In-Person
Program Description
Team Builds are a chance for students (and teachers and chaperones!) to really get their hands dirty helping our farmers grow Good Food for All. This program includes an introduction to Fresh Roots and the many things we do, and plenty of time to work on projects around the farm, from weeding to building. Exact projects will vary depending on the group and the needs of the farm. This program can be 1-2 hours long.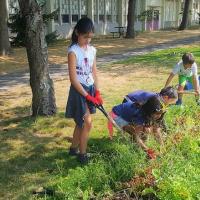 Big Ideas
New experiences, both within and outside of school, expand our career skill set and options.
Safe environments depend on everyone following safety rules.
Adapting to economic and labour market changes requires flexibility.
Our career paths reflect the personal, community, and educational choices we make.
Reflecting on our preferences and skills helps us identify the steps we need to take to achieve our career goals.
The value of work in our lives, communities, and society can be viewed from diverse perspectives.
A network of family, friends, and community members can support and broaden our career awareness and options.
Daily physical activity enables us to practice skillful movement and helps us develop personal fitness.
Healthy choices influence our physical, emotional, and mental well-being.
Physical literacy and fitness contribute to our success in and enjoyment of physical activity
Healthy choices influence our physical, emotional, and mental well-being.
Healthy relationships can help us lead rewarding and fulfilling lives.
Lifelong participation in physical activity has many benefits and is an essential part of a healthy lifestyle.
COVID Precautions
The best place to learn right now is outside! Our all-outdoor programs are COVID-conscious.  Activities will be no-contact, with all tools and non-paper materials sanitized between uses. Hand washing or sanitization will happen upon arriving at the site, before harvesting, before and after eating, as well as any other time hand washing would typically need to happen. All participants will be required to wear a mask or other suitable face covering while harvesting, just like our farmers do! We ask that teachers and chaperones help students remember to maintain their physical bubble/distance from one another and our staff. 
Additional Notes
This program can be 1-2 hours long.
Situated at Vancouver Technical and David Thompson secondary schools, our schoolyard farms are a short walk from many elementary schools and community centers.  All team builds include a farm work experience, as well as a chance to harvest and taste veggies, when seasonally available. We require 1 teacher/chaperone for every 8 grade K-3 students and for every 10 grade 4-12 students.
Learn more and book your trip at freshroots.ca/education/field-trips/.