Taking the Pulse of the Fraser
Last updated on
Saturday, August 1st, 2020
Experience type:
In-Person
Program Description
(Grades 6-9) Follow each step of the scientific method to conduct a water quality investigation. During this 2 hour workshop students observe and become curious about the Fraser River, do background research, construct hypotheses, test their hypotheses by doing experiments, analyze their data, draw a conclusion, and report their results. Students determine whether the current temperature, pH, and turbidity will or will not be above acceptable levels for salmon survival.
This program is divided into:
Introduction Outside (5 minutes)
Observe and Conduct Background Research

Observe the Fraser (outdoor observation and water sample collection 20 minutes)
5-minute transfer to upstairs exhibit gallery
Background research (10 minutes upstairs exhibit search, 10 minutes presentations)
Construct hypotheses (10 minutes)

Stations (25 minutes each)

Turbidity Testing Station
pH Testing Station

Conclusion (10 minutes)
For more information, visit our website or email us. 
*In the 2020-2021 school year, this program may be available for in-class outreach, with an educator and all the materials coming to your school in-person. To provide us with more information on what you would like from in-class outreach, fill in our survey.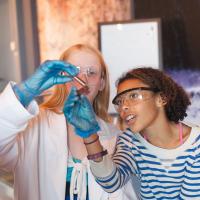 Big Ideas
Everyday materials are often mixtures.
Multicellular organisms rely on internal systems to survive, reproduce, and interact with their environment.
Earth and its climate have changed over geological time.
COVID Precautions
With the continued safety and well-being of our visitors, staff and volunteers the highest priority, we have developed a safety plan in accordance with WorkSafeBC guidelines. Our COVID-19 safety guide can be found on our website: https://fraserriverdiscovery.org/wp-content/uploads/2020/06/WORKSAFE-BC-FRDC-COVID-19-SAFETY-PLAN-Final.pdf If you have any concerns about visiting the center that are not addressed in the safety plan, please email or call us and we can work together to make sure that your visit is a safe one.
Additional Notes
Program includes 20 minutes outdoors to observe the Fraser and collect the water sample. This is a two hour workshop.