The Trading Trail
Last updated on
Saturday, August 1st, 2020
Experience type:
In-Person
Program Description
(Grades 4-7) Explore the economic and technological exchanges between local Indigenous people and early European settlers during the fur trade and become archaeologists as they dig for artifacts that represent key events in the development of BC.
This program is divided into:
Introduction: PowerPoint Presentation (20 minutes)
Stations (20 minute stations)

Archeology Dig (dig in our archeology sandbox for artifacts and explore what those artifacts mean for BC)
Archaeologist's Journal (sketch artifacts and make inquiries into their purposes based on archeological data)
FRDC Trading Post Game (consider value of objects for explorers and Indigenous people in developing BC in a Deal or No Deal inspired competition)

Conclusion (10 minutes)
For more information, visit our website or email us. 
*In the 2020-2021 school year, this program may be available for in-class outreach, with an educator and all the materials coming to your school in-person. To provide us with more information on what you would like from in-class outreach, fill in our survey.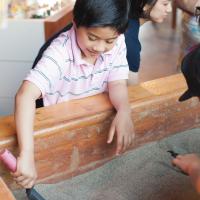 Big Ideas
British Columbia followed a unique path in becoming a part of Canada.
Interactions between First Peoples and Europeans lead to conflict and cooperation, which continues to shape Canada's identity.
The pursuit of valuable natural resources has played a key role in changing the land, people, and communities of Canada.
Canada's policies and treatment of minority peoples have negative and positive legacies.
Natural resources continue to shape the economy and identity of different regions of Canada.
Economic self-interest can be a significant cause of conflict among peoples and governments.
Economic specialization and trade networks can lead to conflict and cooperation between societies.
Religious and cultural practices that emerged during this period have endured and continue to influence people.
COVID Precautions
With the continued safety and well-being of our visitors, staff and volunteers the highest priority, we have developed a safety plan in accordance with WorkSafeBC guidelines. Our COVID-19 safety guide can be found on our website: https://fraserriverdiscovery.org/wp-content/uploads/2020/06/WORKSAFE-BC-FRDC-COVID-19-SAFETY-PLAN-Final.pdf If you have any concerns about visiting the center that are not addressed in the safety plan, please email or call us and we can work together to make sure that your visit is a safe one.
Additional Notes
This program includes a 10 minute outdoor segment.