Vancouver Mysteries Games
Last updated on
Thursday, August 27th, 2020
Experience type:
In-Person
Program Description
In a Vancouver Mysteries game your students are the heroes of their own outdoor adventure — they'll sharpen their deductive reasoning skills while they complete a series of challenges and collect clues to solve a mystery on the streets of downtown Vancouver.
Students are divided into teams of up to 6 players competing for first place in an Amazing Race style game. Points are earned by answering each challenge correctly, completing the game within a time limit, and by being one of the first teams back.
Game kits include a map, game book, worksheet, and any tools required to solve the mystery (examples: magnifying glass, measuring tape). Players use the map to navigate the streets of downtown Vancouver, cracking codes and solving puzzles along the way. Landmarks, sculptures, parks, and historic sites all play their part as the story unfolds.
Games are facilitated by Vancouver Mysteries' Game Operators who arrive in character as detectives or secret agents to introduce the game and send the teams out on their adventure. At the end of the game, Game Operators meet the teams to calculate their scores and award team certificates.
Choose from any of our three games: Gastown murder mystery Crime in Downtown, downtown spy game Secret Mission and superhero adventure Heroes and Villains.
Need some lesson plan ideas? Check out our Field Trips page to download free lesson plans, access Kahoots! games, and pick our brains for more field trip ideas.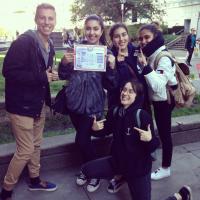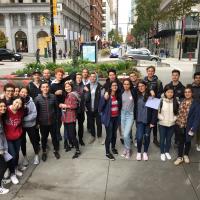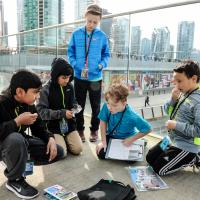 Big Ideas
Finding a balance between work and personal life is essential to good physical and mental health.
Learning how to learn prepares us to be lifelong learners who can adapt to changing career opportunities.
Identity is explored, expressed, and impacted through arts experiences.
The arts provide opportunities to gain insight into the perspectives and experiences of people from a variety of times, places, and cultures.
Language and story can be a source of creativity and joy.
People understand text differently depending on their worldviews and perspectives.
Questioning what we hear, read, and view contributes to our ability to be educated and engaged citizens.
Healthy choices influence our physical, emotional, and mental well-being.
Collective identity is constructed and can change over time.
The physical environment influences the nature of political, social, and economic change.
COVID Precautions
Protective Measures – BC's Restart Plan
Here's how Vancouver Mysteries has adjusted business practices to be in line with the BC Restart Plan:
-physical distancing between Vancouver Mysteries employees and players
-employees wear face mask and gloves to handle kits
-game kits cleaned between use
-office cleaning increased – employees follow a checklist to sanitize the office at the beginning and end of each shift, with additional cleaning for surfaces and equipment in frequent use.
-office capacity limit enforced
-office scheduling changed to include work from home shifts whenever possible
-all Vancouver Mysteries employees agree to stay home if they are not feeling well
-we collect the name and phone number for each booking to support the province's contact tracing requirements.
Additional Protective Measures
Additional Protective Measures Implemented by Vancouver Mysteries:
-every player receives a face mask (PLEASE NOTE: Groups booking at the Field Trip price do not receive free face masks)
-all game kits will be quarantined for 72 hours after use
-re-assembled game kits quarantined for 72 hours before contactless delivery to customers
At WorkSafeBC's recommendation, Vancouver Mysteries has formed a Joint Occupational Health and Safety Committee (JOHSC). This committee is made up of Vancouver Mysteries team members who created and implemented this Safety Plan.
More info at: https://vancouvermysteries.com/about-vancouver-mysteries/covid-19-safety...
Additional Notes
One game can host up to 36 players. We run multiple games silmultanousely as a Mega Mystery for groups with 36-108 students, with dispersed start locations to avoid large gatherings. Groups of more than 36 students who wish to play the same game may do so as multiple bookings half an hour or more apart on the same day. Please contact us for more details.
Please allow for 2 to 2.5 hours game time (depending on group size) when planning the rest of your day.
Games start and end in Downtown Vancouver, near Waterfront Skytrain Station.