Winter Eagle Viewing Float
Last updated on
Wednesday, August 26th, 2020
Experience type:
In-Person
Program Description
This Winter wrap up warm, grab your camera, and embark on this unique journey to view the spectacular bald eagles that gather in the Brackendale area of Squamish, British Columbia, every year.
As you travel the lower Cheakamus and Squamish Rivers, observe, photograph and learn about the local population of wintering eagles as our expert guides share their knowledge of the bald eagles, aboriginal legends, local area, river features, and flora and fauna with you.
Don't forget to take in the breathtaking scenery of the Stawamus Chief, Shannon Falls, Mount Garibaldi, and the Coast Mountains of British Columbia. Enjoy your time with your friends, teachers, parents, and nature during this idyllic interpretive wildlife float and learn about the world-renowned Squamish Valley and its thriving eagle population.
Finish your Winter Eagle Float Tour at a cozy restaurant for a warm hearty meal.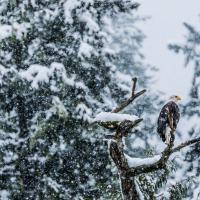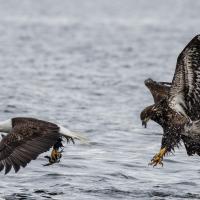 Big Ideas
Living things have features and behaviours that help them survive in their environment.
Living things have life cycles adapted to their environment.
Water is essential to all living things, and it cycles through the environment.
Living things are diverse, can be grouped, and interact in their ecosystems.
All living things sense and respond to their environment.
Evolution by natural selection provides an explanation for the diversity and survival of living things.
We shape the local environment, and the local environment shapes who we are and how we live.
Local actions have global consequences, and global actions have local consequences.
Indigenous knowledge is passed down through oral history, traditions, and collective memory.
Indigenous societies throughout the world value the well-being of the self, the land, spirits, and ancestors.
Learning about indigenous peoples nurtures multicultural awareness and respect for diversity.
The pursuit of valuable natural resources has played a key role in changing the land, people, and communities of Canada.
COVID Precautions
https://www.canadianoutbackrafting.com/covid-19-update/