BMSC Live! Invertebrate Diversity
Last updated on
Friday, September 11th, 2020
Experience type:
Virtual Field Trip
Program Description
Invertebrates make up over 90% of animal life on the planet!
Join us as we explore common marine inverts using our own collection! Students will learn about their classification, specilaized adaptations, and more.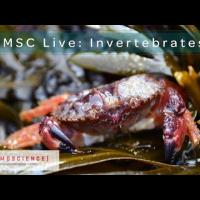 Big Ideas
Multicellular organisms have organ systems that enable them to survive and interact within their environment.
Multicellular organisms rely on internal systems to survive, reproduce, and interact with their environment.
Evolution by natural selection provides an explanation for the diversity and survival of living things.