Guided Heritage Tours (Gr 7 -12)
Last updated on
Tuesday, June 27th, 2023
Experience type:
In-Person
Program Description
Discover the stories of a diverse fishing, canning, and boat building community at the scenic Britannia Shipyards National Historic Site on the shores of the Fraser River. This one-hour guided tour is led by a Heritage Interpreter, and includes introductions to the heritage buildings which illustrated the living and working conditions of the communities that made Steveston the special place it is today.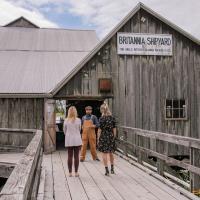 Big Ideas
Contacts and conflicts between peoples stimulated significant cultural, social, political change.
Collective identity is constructed and can change over time.