Online Symposium on the Holocaust
Last updated on
Friday, September 18th, 2020
Experience type:
Online Resource
Program Description
The Online Symposium on the Holocaust provides student engagement with a historian and Holocaust Survivor Speakers. Once registered, the symposium is accessible to learners at any time, offering different levels of engagement and learning at the user's own pace. It can be taught in half a day, or over several days or weeks.
Symposium is recommended for students in grades 10 through 12.
Includes:
A video-recorded historical overview on the Holocaust by Dr. Lauren Faulkner Rossi (SFU)
Video-recorded eyewitness accounts by Holocaust survivors Lillian Boraks-Nemetz and Dr. Robert Krell
Video-recorded answers to frequently asked questions asked of survivors
Guidelines for teachers, a note to students on how they can make a difference, and links to additional resources
Follow these easy steps to enroll: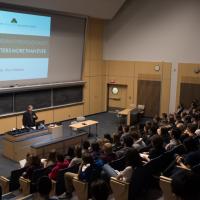 Big Ideas
Collective identity is constructed and can change over time.
Disparities in power alter the balance of relationships between individuals and between societies.
Emerging ideas and ideologies profoundly influence societies and events.